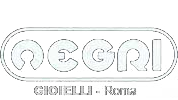 Company
The Negri jewellery has been working with precious metals for over 60 years, focusing on individual or limited edition pieces that joint goldsmithing and sculpture.
It has been located in the historic heart of Rome since 1971.
We have searched ceaselessly for new forms and unique materials such as raw minerals, exotic wood, dichroic glass polychromic titanium and micromosaics.
The methods used to create these pieces integrate classical and modern techniques.